Supporting the Development of Amateur Sports Facilities
The State of Minnesota has supported the construction of new sports facilities to serve amateur athletes. Twelve facilities have received support through state bonding dollars allocated to the Minnesota Amateur Sports Commission, matched with non-state funding. Only one of the facilities, the National Sports Center in Blaine, is under the direct oversight of the Minnesota Amateur Sports Commission. All other facilities were turned over to non-state entities for operational and fiscal management.
If you are part of an organization looking to develop amateur sports facilities in your region, please speak with us. The MASC is available to advise your group with facility concept development, grant management and long-term facility management information.
Facility Development Project Portfolio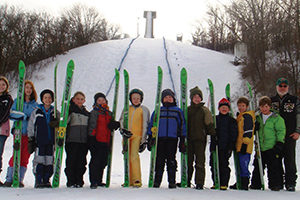 Bush Lake Ski Jump, Bloomington
Facility description: Hyland Lake Park Reserve in Bloomington has long been the site of an active ski jumping community. The Bush Lake Ski Jump, a 70-meter jump, replaced a 40-meter jump in January of 2000. It joined the 25-meter and 10-meter jumps to provide a first-class training and event-hosting site for jumpers of all ages and development. The state investment funded the construction of the foundation, steel scaffolding, and timber decking for the 70-meter jump. The Minneapolis Ski Club contributed cash and in-kind services totaling more than $250,000 to complete the jump.
State Investment: $500,000 (1996)
Operation: Owned by Three Rivers Park District and operated by the Minneapolis Ski Club.
Sports and Activities Served: Ski jumping and nordic combined
Giants Ridge Recreation Area, Biwabik
Facility Description: Giants Ridge continues its positive economic impact in northeastern Minnesota, attracting 100,000 guests each year from Minnesota, the surrounding Midwestern states and Canada. During the winter months, in-state and out-of-state skiers visit Giants Ridge for personal multi-day vacations, as well as to attend the numerous ski events such as the Minnesota State High School League Alpine and Nordic Championships. The ski area also services local residents.
State Investment: $2.2 million (1987); $690,000 (1998)
Operation: Iron Range Resources and Rehabilitation Board
Sports and Activities Served: alpine and nordic skiing.
Website: giantsridge.com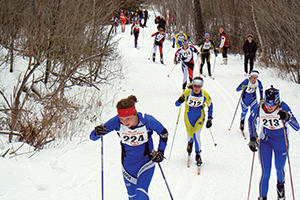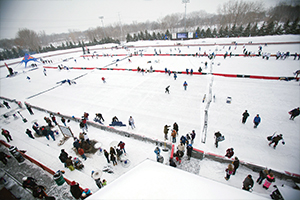 Guidant John Rose Minnesota OVAL, Roseville

Facility Description: The Guidant John Rose Minnesota OVAL opened in 1993 and it has established itself as one of Minnesota's most unique sports venues. The OVAL features the world's largest outdoor refrigerated ice sheet, with 110,000 square feet of concrete, 85 miles of refrigeration piping, and 800 tons of refrigerant. As many as 1,200 ice skaters have been on the OVAL surface at one time.
logo. The OVAL has hosted World Cup and World Championship speed skating events, world and national bandy championships, numerous national and regional speed skating events.
State Investment: $1.9 Million (1992); $500,000 (1994)
Operation: City of Roseville
Sports and Activities Served: Speed skating, hockey, public skating, bandy, in-line skating events.
Website: SkateTheOval.com
Herb Brooks National Hockey Center, St. Cloud

Facility Description: Home of the St. Cloud State Huskies, the Herb Brooks National Hockey Center supports not only the men's and women's SCSU ice hockey teams and the St. John's University men's hockey team, but numerous campus and community programs as well. The facility has hosted numerous USA Hockey National age-group festivals and training camps and was a venue for preliminary round games of the 2001 Women's World Hockey Championships. The facility features two sheets of ice and a main arena seating 5,159 spectators.
In 2013, the Herb Brooks National Hockey Center completed a $15 million expansion and renovation project, with $8 million coming from private donors. The improvements added an atrium, new west-end seating, expanded suites and club-level seating, wider concourses, a team store overlooking the atrium, and new and improved training facilities.
State Investment: $9.5 million (1987); $6.5 million (2008)
Operation: St. Cloud State University
Sports and Activities Served: ice hockey, broomball, figure skating, curling, conventions and college events.
Website: stcloudstate.edu/campusrec/facilities/herb-brooks-national-hockey-center.aspx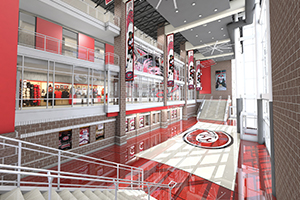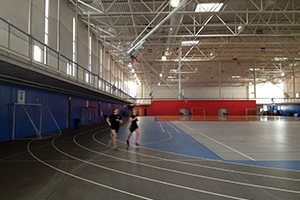 Minneapolis Sports Center, Midtown YWCA, Minneapolis
Facility Description: The Minneapolis Sports Center is a collaborative effort between the Midtown YWCA, the Minneapolis Public Schools and the MASC. Located adjacent to South High School on Lake Street in Minneapolis, the facility offers a 50,000 square foot fieldhouse with a 200-meter track and space for basketball and volleyball courts.
State Investment: $3.4 million (1996); $600,000 (1998)
Operation: Midtown YWCA
Sports and Activities Served: Indoor sports such as fitness activities, court sports, running.
Website: ywcampls.org/locations/minneapolis_sports_center/
National Sports Center, Blaine
Facility Description: The National Sports Center opened in 1990 and is the flagship facility of the Minnesota Amateur Sports Commission. As such, it is the only one of the MASC-funded facilities that remains under the oversight of the MASC. The campus is a 660-acre multi-sport facility that includes 50 athletic fields; the eight-sheet Super Rink, a 5,500-seat Stadium; the Welcome Center, a meeting and events center; two indoor sports facilities, the indoor Sports Hall and the Sport Expo Center; the 18-hole Victory Links golf course; and a 150-bed Residence Hall with a cafeteria. The NSC hosts about 300 events, greets four million visitors each year, and produces an annual visitor economic impact of $83 million.
State Investment: $14.7 million (1987); $400,000 (1992); $119,000 (1994); $400,000 (1996); $5.8 million (1998); $300,000 (1999); $5 million (2003); $2.3 million (2009); $496,000 (2013); $3.7 million (2014).
Operation: Self-supporting, 501(c)(3) non-profit foundation, the National Sports Center Foundation.
Sports and Activities Served: Soccer, hockey, figure skating, golf, cycling, lacrosse, ultimate, rugby, broomball, basketball, volleyball, meetings and consumer shows. Home of the Minnesota United FC professional soccer team's training grounds. Also home of the Blaine Soccer Club.
Website: nscsports.org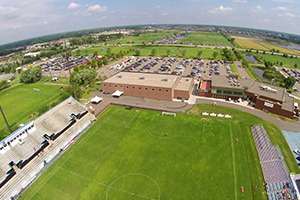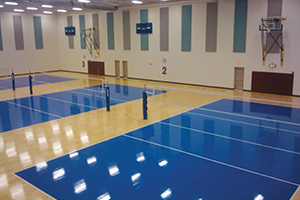 National Volleyball Center, Rochester
Facility Description: The National Volleyball Center opened in September 1998. The Center is winning raves as one of the finest volleyball facilities in the world. It is unique in that it was built to the highest standards required by world-class volleyball players, with high ceilings, spacious off-court clearances, Olympic quality lighting and a suspended wood Bio-Cushion II floor. An additional state investment in 2010 allowed for a phase 2 expansion of the facility from eight to 11 courts.
State Investment: $2.3 million (1996); $4 million (2010).
Operation: City of Rochester and the Rochester School District
Sports and Activities Served: volleyball, basketball, badminton, physical education activities at Century High School
Website: rochestermn.gov/departments/parks-and-recreation/indoor-facilities/national-volleyball-center
Ole Mangseth Memorial Ski Jump, Coleraine
Facility Description: With the assistance of $130,000 in funding from the MASC, the Ole Mangseth Ski Jump was outfitted with plastic mats to allow for ski jump training and competition during the non-snow months. Since this addition was completed in 1999, user-ship and economic impact at the facility have increased significantly. Athletes from throughout the U.S. have trained in Coleraine for extended periods of time at formal training camps lasting as long as ten days. Both the U.S. National Ski Jump Team and the Nordic Combined Development Team trained at the facility in recent years.
State Investment: $175,000 (1989); $130,000 (1998)
Operation: Itasca Ski and Outing Club
Sports and Activities Served: ski jumping, nordic combined, biathlon.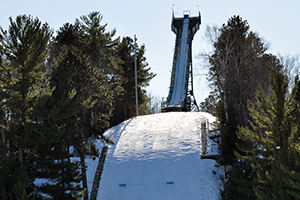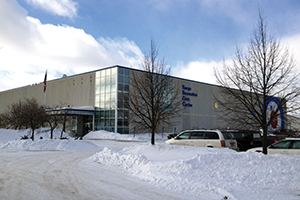 Range Recreation Civic Center, Eveleth
Facility Description: By working together, the Quad cities of Virginia, Eveleth, Mountain Iron and Gilbert, built the Range Recreation Civic Center, with support from the Minnesota Amateur Sports Commission.
The primary winter use of this facility is curling. As curling is now an Olympic event, the United States Curling Association supports this facility as a National Training Center. The facility is capable of hosting national and regional championships.
State Investment: $1.25 million (additional funding from the following sources: $600,000 from IRRRB, $500,000 from Quad Cities, contributed on a per capita basis, $100,000 from the Blandin Foundation, and $345,000 donated from the curling community)
Operation: Quad Cities Joint Recreational Authority (Virginia, Eveleth, Mountain Iron, Gilbert)
Sports and Activities Served: curling, community dryland activities
Red Baron Arena and Expo, Marshall
Facility Description: The Red Baron Arena & Expo features two sheets of ice and an exposition center. The facility is the centerpiece of the Schwan Regional Amateur Sports Center and a part of the Marshall Amateur Regional Sports Hub (MARSH), which includes more than three dozen city, school and college sporting facilities in Marshall.
The Schwan Food Company donated more than 29 acres of property to the City of Marshall to support the MARSH facilities and infrastructure. The company also sold approximately 14 acres of land to the City of Marshall at a discounted market rate for the development of four softball and youth baseball fields within the Hub.
State Investment: $4.3 million (2015)
Operation: Marshall Amateur Regional Sports Hub (MARSH)
Sports and Activities Served: hockey, conventions, expositions, and meetings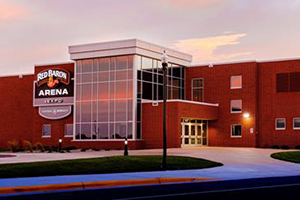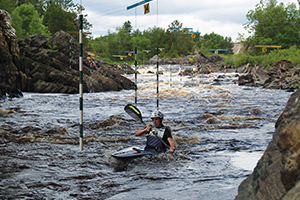 St. Louis River Outpost, Carlton
Facility Description: The St. Louis River Outpost Whitewater Center continues to be a favorite site for all whitewater sports. From local beginners to Olympic-caliber paddlers, the varied terrain of the St. Louis River above and below the Thompson Dam offer different levels of difficulty. The University of Minnesota-Duluth Outdoor Program operates the Outpost Visitor Center just north of Jay Cooke State Park. This natural log structure serves as a staging location for classes, clinics, and competition events.
State Investment: $260,000 (1989)
Operation: University of Minnesota Duluth
Sports and Activities Served: whitewater kayak and canoeing
Jean K. Freeman Aquatic Center, University of Minnesota Twin Cities, Minneapolis
Facility Description: The Jean K. Freeman Aquatic Center, located east of Cooke Hall on the University of Minnesota Minneapolis campus, was built in 1990. It was designed to meet or exceed Olympic standards so that it could host major swimming and diving events. Nearly two acres in size, the Aquatic Center houses the Dorothy L. Sheppard Pool, a 50-meter competition pool, eight lanes wide and eight feet deep, with a movable bulkhead. The separate diving well features a pair of one-and three-meter boards, as well as 1, 5, 7.5 and 10-meter diving platforms.
In addition to the 1,346 permanent seats, there is room for 1,200 temporary bleachers.
The Aquatic Center has been the site for some of the top swimming and diving events in the country: Big Ten Championships, NCAA Championships, many national and international competitions and is the  of the annual host of the Minnesota State High School Championships.
State Investment: $3 million from MASC and $15 million from the University of Minnesota in 1987
Operation: University of Minnesota
Sports and Activities Served: swimming, diving, water polo, synchronized swimming and other aquatic sports